Expos&egrave/Synopsis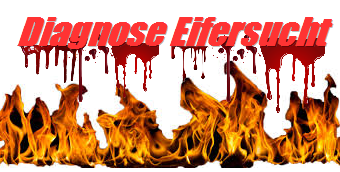 DIAGNOSIS: JEALOUSY
von/by
Melanie Porschen
Genre: Psycho-Thriller
Seiten/Sites: 128

Daryl Carter und sein sechzehn jähriger Sohn Jackson sind vor drei Jahren in die USA eingewandert.
Mary Jones, Daryl's Verlobte und Daryl's Sohn Jackson können sich nicht ausstehen. Da Mary ihren eigenen Kopf hat und ihren zukünftigen Stiefsohn lieber tot sehen möchte, setzt sie alles daran, die Vater-Sohn Beziehung zu zerstören.
Mary's Söhne, Mike und Mary's und Daryl's gemeinsamer Sohn Brian, werden von ihrer eigenen Mutter oft im Stich gelassen, sodaß Daryl sich die meiste Zeit um die Kinder kümmert.
Doch schon bald muß Daryl, durch seinen fast erwachsenen Sohn Jackson erfahren, das Brian gar nicht sein Sohn ist. Von nun an beginnt ein Psychokrieg zwischen Mary, Daryl und Jackson.
Melanie Sasson, Daryl's neue Nachbarin, die vor kurzem, das Haus neben Daryl's gekauft hat, schaut dem Treiben zu und versucht, durch ihre Hilfe, das Schlimmste zu verhindern.
Daryl verzeiht Mary's ständige Seitensprünge und auch den Mordanschlag auf seinen Sohn. Als er aber erfährt, das Mary bereits verheiratet ist, als er sie bereits geheiratet hat, wird er endlich wach, wendet sich von Mary ab und begibt sich in die auffangenden Arme von Mel.
Schon bald muß Mel erkennen, das sie sich zu sehr eingemischt hat und Mary's Eifersucht ihr zum Verhängnis wird.

Daryl Carter and his sixteen-year-old son Jackson immigrated three years ago in the United States.
Mary Jones, Daryl's fiancee and Daryl's son Jackson, can't stand each other. Since Mary has her own mind and wants to see her future stepson rather be dead put she everything to destroy the father-son relationship.
Mary's sons, Mike and Mary's son and Daryl's common son Brian, are often abandoned by her own mother down, so that Daryl takes care of most of the time the children.
But soon must Daryl, experienced by his teenaged son Jackson, that Brian is not his son. From now on, a psychological war between Mary, Daryl and Jackson begins.
Melanie Sasson, Daryl's new neighbor, who has recently bought the house next to Daryl's, looks to the bustle and tried to help, to prevent the worst.
Daryl forgive Mary's constant infidelities and the attempted murder of his son. But when he learns that Mary is already married, as he has already married her, he is finally awake, turns away from Mary and goes to the intercepting arms of Mel.
Soon, Mel must realize that she meddled too much and Mary's jealousy is the undoing her.